Religion
"There is an overwhelming sense of belonging, one parent commented, "'We are just one big happy family here'."
- Salford Diocese, Section 48 Inspection.

"Religious education is at the core of everything that happens at Christ the King and is visible in every room in the school."
- Salford Diocese, Section 48 Inspection.
Christ the King is a Roman Catholic Primary School, which aims to provide a high quality Catholic education for all of our children. Our RE Curriculum is based on the Liturgical Calendar and the schemes of work recommended by the Diocese of Salford, which include Come and See and The Way, The Truth and The Life. Collective Worship is a large part of school life, taking place both in class, assembly, and during visits to Church. We are privileged to be able to include our parishioners, families, and the community of Christ the King at our Liturgical celebrations.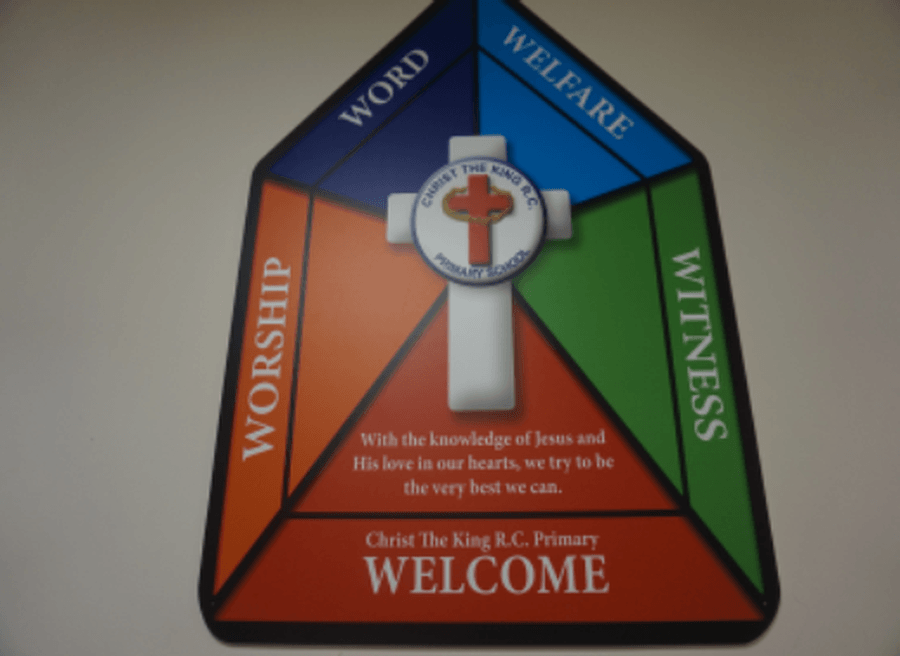 Recently, we have celebrated Remembrance Day, the Crowning of Our Lady and, of course, Christmas. We are lucky to have a prayer garden at school where services are regularly held, as well as Prayer Stations that children, parents, and parishioners are invited to use for worship and reflection.

Our GIFT team (Growing In Faith Together) takes on the important role of leading assemblies and other times of collective worship, ensuring that our faith is seen, heard, and observed throughout the school.
In Year 3, children prepare to receive the Sacrament of Reconciliation and First Holy Communion. Everyone, including staff, parents, parishioners, Fr. Derek and the children work extremely hard to make this a very special time at Christ the King. Keep an eye on the school website for details about this year's Sacramental Programme.

For more information and guidance about RE, please visit the links below.
Knowledge Organisers
GIFT Newsletter
Statements of Belief (Values and Ethos)
Life to the Full: Online Parent Portal
Life to the Full is a programme in Relationship and Health Education for Catholic primary schools throughout the UK. This programme is rooted in a Christian understanding of the human person, based on "A Model Catholic RSE Curriculum" provided by the Catholic Education Service.
The Online Parent Portal contains an overview of the programme, guidance for parents, and activities that can be done at home. Click here to access.
Other faiths
As well as learning about the Catholic faith, we believe it is important for children to explore the beliefs, values and traditions of other religions. To enrich children's understanding of other faiths, we regularly embark on school trips and host guest speakers.

Recently, Year 6 enjoyed touring the Synagogue and gained fascinating insights into the traditions of Judaism. Manchester Central Mosque also extended a warm welcome to us, and the children learned lots of information on their trip.

We have also enjoyed a visit from Mr. Ali, who spoke to us about his beliefs and the traditions of Islam. It was very interesting and informative. Thank you Mr. Ali!

Charity and Caring for our Community
At Christ the King, we abide by the Golden Rule of treating others as we would wish to be treated. With this in mind, we work closely with CAFOD and Caritas to give children the chance to show kindness and caring for those in need.

With CAFOD, we've been lucky enough to benefit from workshops centred around Pope Francis' encyclical, Laudate Si, which encourages us to look after God's wonderful world. This year, we learned about the importance of clean water. To raise money for CAFOD, children have been attempting to walk 100 miles - and have just over 22 miles left! We're very proud of our children's efforts and their compassion for those who benefit from CAFOD's work.
For our Harvest Collection, pupils were asked to collect food to go towards feeding the hungry and ensuring they can be looked after. Our children were very generous with their donations and won a Caritas "Call to Action" certificate for their achievement!
Culcheth Lane, Manchester, Lancashire M40 1LU
0161 681 2779
For telephone enquiries please ask for Mrs Potter.
contact@christtheking.manchester.sch.uk
At point of contact, enquires and queries will be dealt with by Mrs. Potter.
For a paper copy of any information on this website, please contact the school office.
SEN enquiries will be passed on to the school SENDCo Mrs Holroyd.