PHSE
At Christ the King, we want all children to be happy and achieve the very best in all aspects of their lives. We use Personal, Social, Health and Economic education to help children to fulfil their potential and give them the skills they need to lead confident, healthy and independent lives.
"I really enjoyed going in the Life van with Rachel and learning about feelings and how to stay safe." (KS1 pupil)
Anti-Bullying Week.
School Council gave an assembly about Anti-Bullying Week. The theme of this years campaign is, 'change starts with us.' The children gave some lovely examples of the things that we already do at CTK to help everyone feel safe and welcome when they come to school each day, and also some reminders about things that we could try to do to make CTK an even better place to learn and have fun with our friends. They also shared our 'Anti-Bullying Charter' that tells everyone about the kinds of behaviour we expect from each other and gives some ideas of what bullying is. Finally, they launched the annual Anti-Bullying Week poster competition. We look forward to some fabulous entries as usual!
Odd Socks Day 2019!
Everyone in school was asked to wear their craziest socks for Odd Socks Day! We did this to help us all remember how unique we all are, and how special that is!
Brookdale View Care Home Visit.
At Christ The King pupils are encouraged to take part in certain acts of Social Action. One of these being our yearly Christmas time trip to our local care home, Brookdale View. This year the school choir and Urban Crew visited the residents and had a little chat with them before singing them a few Christmas songs. Both residents and children had a lovely afternoon spreading a little Christmas cheer!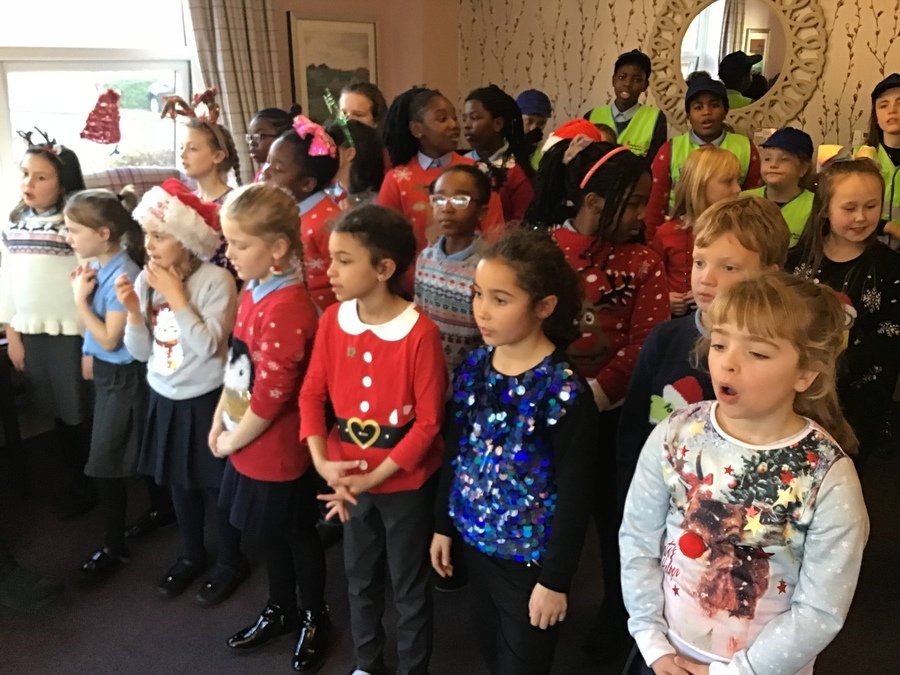 Coram Education Life Van Visit 27th - 31st January 2020.
This week Rachel brought the Education Life Van back to school. Each year group from Nursery to Year 6 had a session in the Life Van. The children engage in interactive sessions with Rachel and Harold the Giraffe which centre around how children can keep themselves safe in lots of different social situations and cover things such as healthy eating and friendships. The children had a fantastic time once again and are ready to take their learning back to the classroom with our SCARF resources in their PSHE sessions.
Children's Mental Health Week 3-9th February 2020.
This important week shines the spotlight on the importance of children and young people's mental health. This year's theme is, 'Find Your Brave.' The children have been discussing mental health in their classes and the importance of seeking help early on if something is bothering them. To mark the importance of the week each class chose a class song around the theme of being brave and performed it for the rest of the school in our Friday Awards Assembly.
Freddie Fit!
Freddie Fit came back to Christ The King this week. The children learned about how to keep their bodies and minds fit and healthy through the use of exercise.
Mental Health Awareness Week 18-22nd May 2020
The theme this year was 'Kindness,' in order to mark the week the children at Christ The King were asked to perform some random acts of kindness whilst they were at home during the pandemic. The children had some lovely ideas from writing a letter to give to a friend, to simply helping with the household chores. Parents took pictures of all of these and sent them to teachers, then Mr Russell made them into a fabulous video.
Follow the link below to view the video!
Culcheth Lane, Manchester, Lancashire M40 1LU
0161 681 2779
contact@christtheking.manchester.sch.uk