There is an overwhelming sense of belonging, one parent commented, "We are just one big happy family here". (Salford Diocese, Section 48 Inspection)
Religion
Religious education is at the core of everything that happens at Christ the King and is visible in every room in the school. (Salford Diocese, Section 48 Inspection )
Christ the King is a Roman Catholic Primary School, which aims to provide a high quality Catholic education for all children who attend the school. It is committed to working in partnership with the Diocese of Salford, the parents of its children and the local community. The Mission Statement of Christ the King is central to the ethos of the school.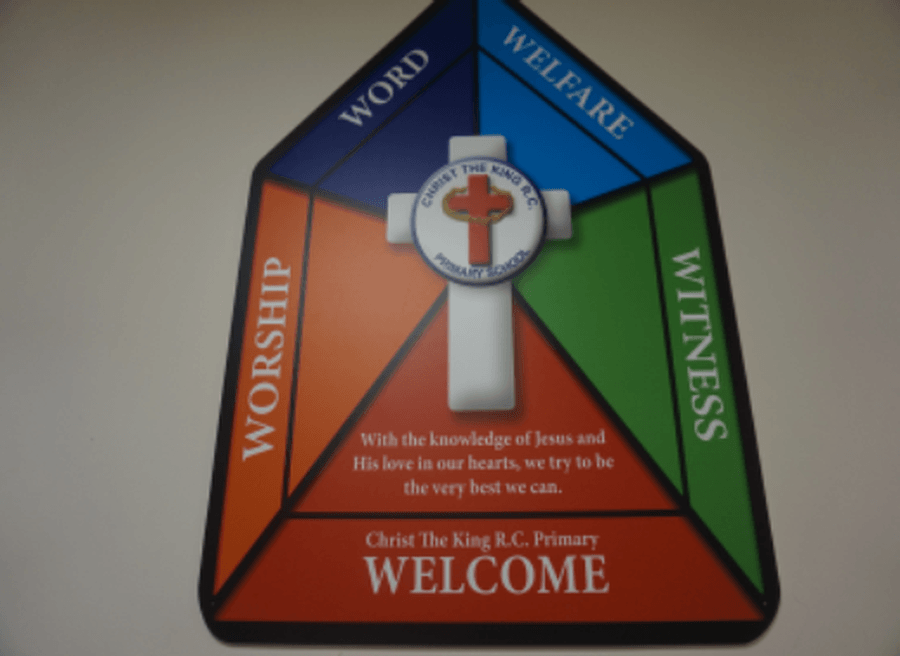 We are the G.I.F.T team. G.I.F.T. stands for Growing in Faith Together. We help to nurture the faith life of our school. We lead assemblies and other times of collective worship. We have a responsibility to ensure our faith is seen, heard and observed throughout our school and parish.
We follow the '5Ws Framework' in accordance with the Diocese of Salford. The 5Ws stand for:
WELCOME
WITNESS
WORD
WORSHIP
WELFARE
As a school, the RE Curriculum is based on the Liturgical Calendar and also the schemes of work recommended by the Diocese of Salford which include: Come and See and The Way, The Truth and the Life. The Come and See scheme is developed through 3 themes: Church, Sacrament and Christian Living.
Prayer Stations
At Christ the King, we take the opportunity to express our faith through prayer as often as possible. We share our Prayer Stations Days with parents and parishioners. All are welcome at Christ the King.
Culcheth Lane, Manchester, Lancashire M40 1LU
0161 681 2779
contact@christtheking.manchester.sch.uk