There is an overwhelming sense of belonging, one parent commented, "We are just one big happy family here". (Salford Diocese, Section 48 Inspection)
Religion
Religious education is at the core of everything that happens at Christ the King and is visible in every room in the school. (Salford Diocese, Section 48 Inspection )
Christ the King is a Roman Catholic Primary School, which aims to provide a high quality Catholic education for all children who attend the school. It is committed to working in partnership with the Diocese of Salford, the parents of its children and the local community. The Mission Statement of Christ the King is central to the ethos of the school.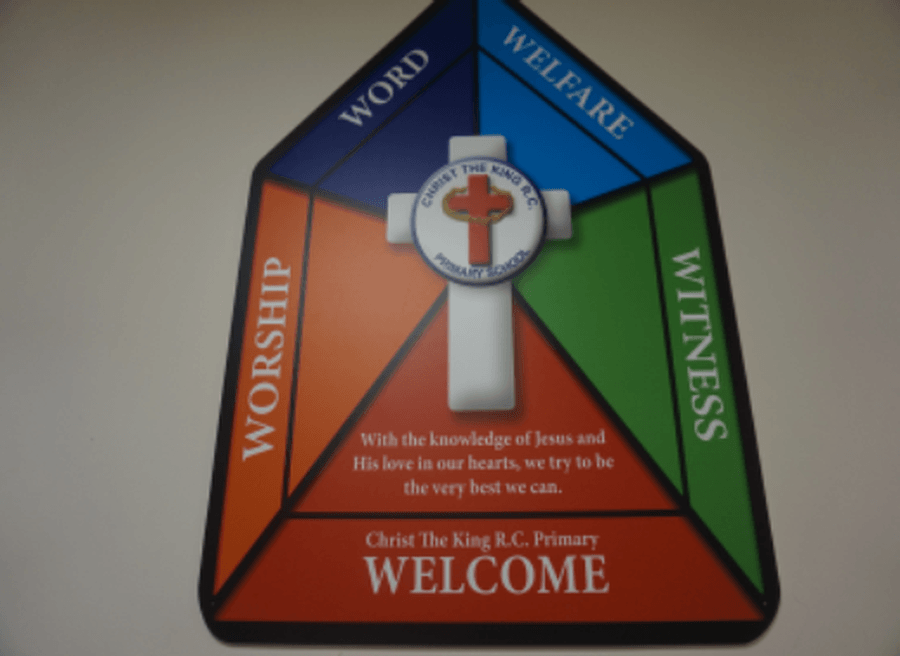 The G.I.F.T Team
We are the G.I.F.T team. G.I.F.T. stands for Growing in Faith Together. We help to nurture the faith life of our school. We lead assemblies and other times of collective worship. We have a responsibility to ensure our faith is seen, heard and observed throughout our school and parish. We have been visting local schools in the Diocese of Salford to celebrate the Year of the Word.
We follow the '5Ws Framework' in accordance with the Diocese of Salford. The 5Ws stand for:
WELCOME
WITNESS
WORD
WORSHIP
WELFARE
As a school, the RE Curriculum is based on the Liturgical Calendar and also the schemes of work recommended by the Diocese of Salford which include: Come and See and The Way, The Truth and the Life. The Come and See scheme is developed through 3 themes: Church, Sacrament and Christian Living.
Collective Worship
At our school we come together regularly to pray during Collective Worship. During the last year we have often prayed together but apart. Below you can see some images of our Lenten visits to Church.
The Liturgical Year
Throughout the year, our school celebrates and follows the Liturgical Calendar. We celebrate at Church, in school and at home. We are privileged to be able to include our parishioners, families and the community of Christ the King at these celebrations.
Sacramental Programme
Year 3 is a very special time for the children at our school. We continue on our Sacramental Journey and receive the Sacrament of Reconciliation and First Holy Communion. Everyone, including parents, parishioners,Fr. Derek, staff and children work extremely hard to make this a very special time at Christ the King.
Please follow the link below to the Diocese of Salford for more information regarding First Holy Communion this year.
https://www.dioceseofsalford.org.uk/faith/sacraments/first-communion/
Crib Blessing- The GIFT Team lead our Crib Blessing
Prayer Stations
At Christ the King, we take the opportunity to express our faith through prayer as often as possible. We share our Prayer Stations Days with parents and parishioners. All are welcome at Christ the King.
The Feast of Christ the King
Our G.I.F.T. team led a collective worship for the feast of Christ the King and they did a marvellous job.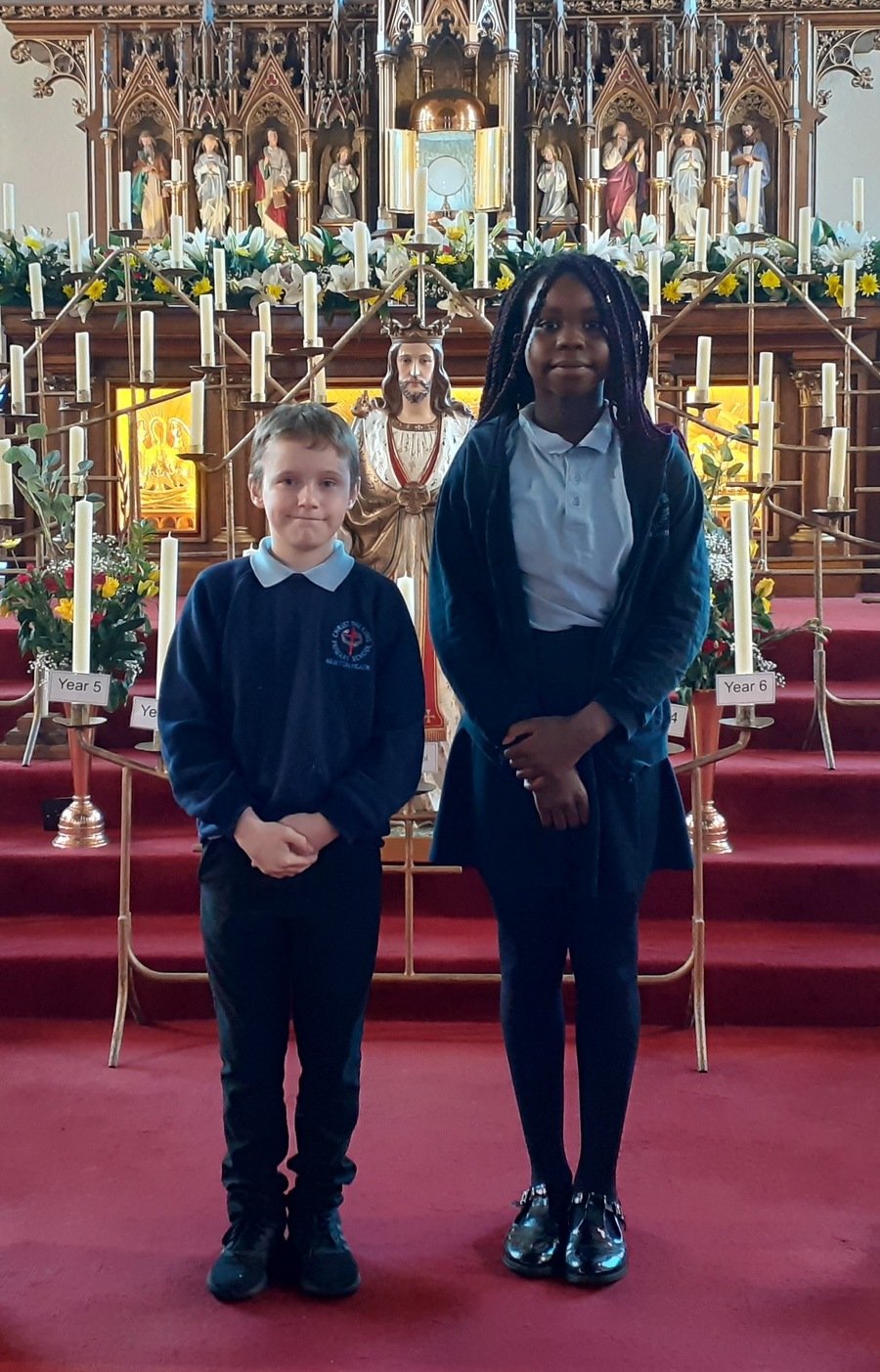 Five Fingers of Prayer - During our collective worship we often ask the children to use the five fingers of prayer.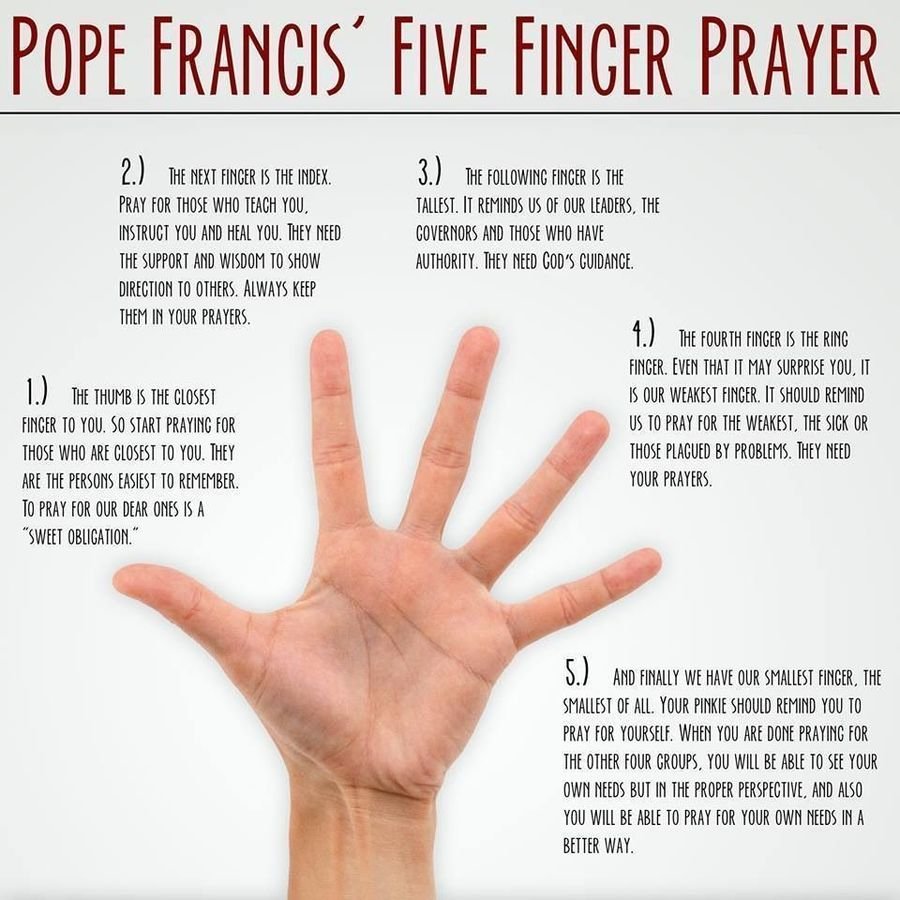 Wednesday Word
We are very lucky to have such dedicated parishioners who join us each week to share the Gospel with us.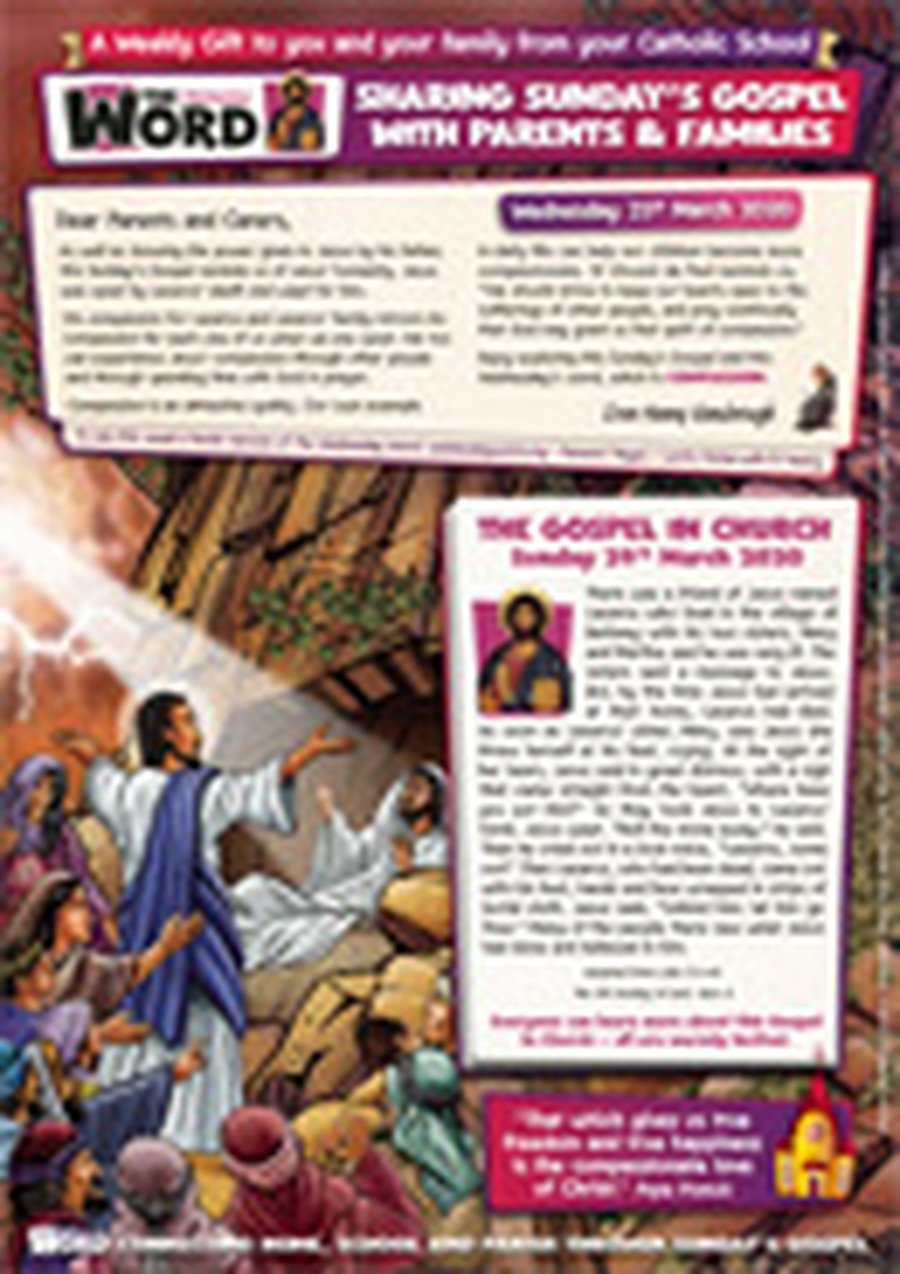 The Crowning of Our Lady
During May, as a parish and a school, we come together to honor Our Blessed Lady.. Traditionally, Year 3 children have led this celebration but everyone has enjoyed the May procession around school.
The Legion of Mary
We are very lucky to have the Legion of Mary visit us every week to say the Rosary. Thank you Laura for your commitment and dedication; our children do enjoy this time for prayer.
Holy Hour and the Children of Fatima
At Christ the King children are given the opportunity to take part in the celebration of the lives of the children of Fatima and say the Rosary together. Thank you to Mrs Farand, one of our Governors, for introducing this to our school.
Other Faiths
We look at other people's faiths and beliefs and Christ the King. Year 6 have thoroughly enjoyed their trip to the Synagogue. We received a wonderful welcome and the talk and tour was both informative and fascinating.
Prayer Garden
We are very lucky to have a prayer garden at school. We are able to come together here for collective worship. We also use this space for our Remembrance Service in November and Mr Rice kindly places our beautiful Nativity figures here.
CAFOD
At Christ the King we work closely with CAFOD to ensure 'no-one beyond reach'. We've been lucky enough to engage in workshops centred around Pope Francis' encyclical, Laudate Si which encourages us to look after God's wonderful world.
You can find out more about CAFOD's wonderful work here.
https://cafod.org.uk/Education/Kidz-Zone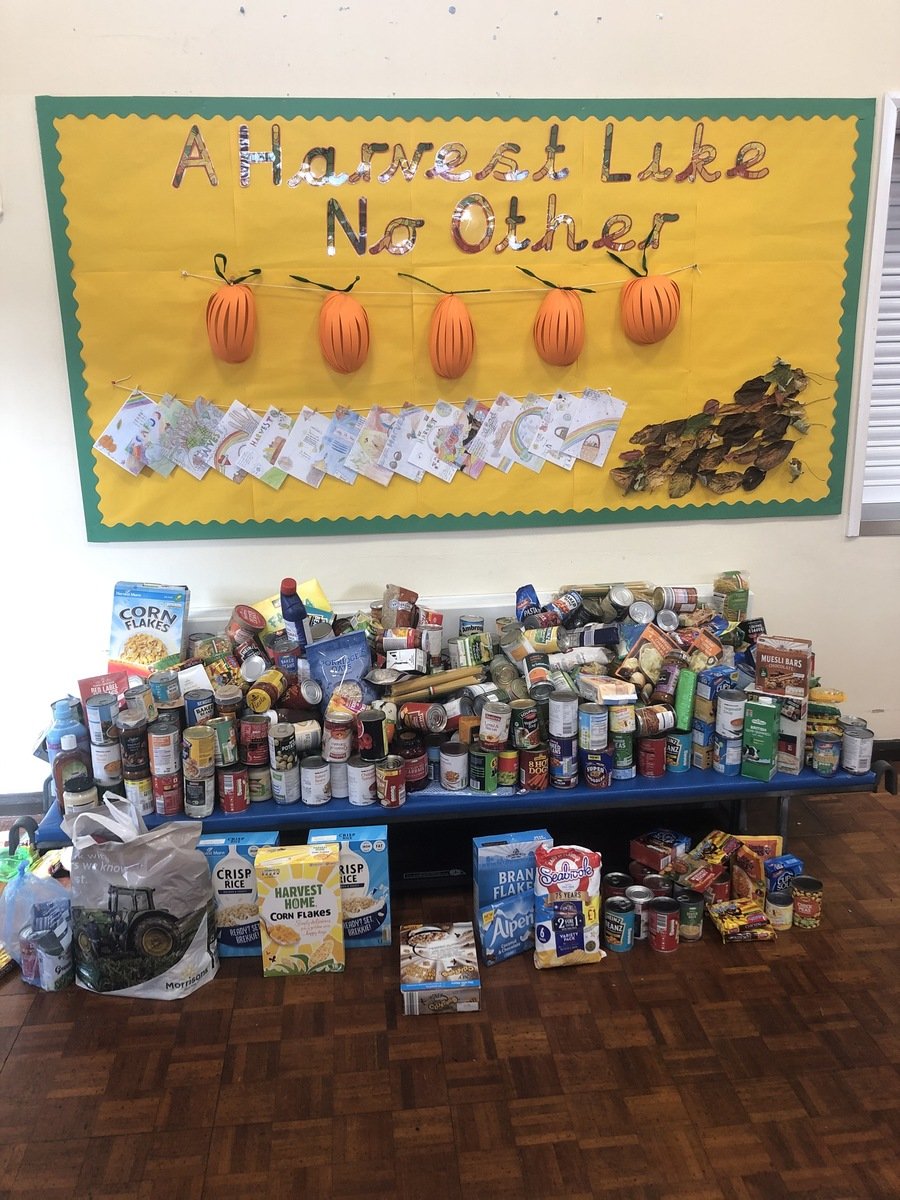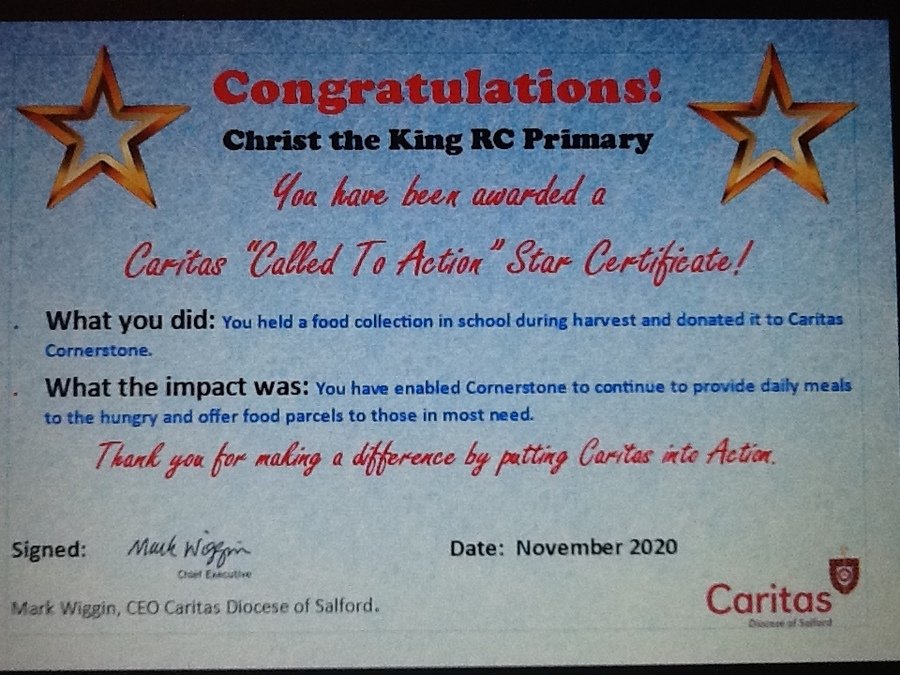 Reaching Out To Our Parishioners
At Christ the King we are always supported by our parish and we thought we would reach out to them at this uncertain time. We felt many people in our parish community might like to receive a letter from us and we do hope that they reply. We know that some letters are already winging their way back to us!
Caring For Our Common Home
We have submitted logo designs for the new Laudato Si Centre.
Prayer Through Paint- We are constantly trying to deepen and nourish our children's faith life. We have embraced Prayer through Paint as a way of affording our children an opportunity to express their faith, beliefs and reflections in a calm, personal and meditative way. Please look at the results below.
Culcheth Lane, Manchester, Lancashire M40 1LU
0161 681 2779
contact@christtheking.manchester.sch.uk