Sport at Christ the King
Christ the King believes that P.E. is an integral part of the school curriculum, offering breadth and balance. Children gain knowledge, understanding and skills through planning, performing and evaluating their work. Physical Education is also a way of motivating children, therefore having a positive impact on cross-curricular links. It plays a fundamental part in social, emotional and intellectual development. The school offers the children 2 hours per week of quality physical activity.

At Christ the King, P.E gives the children the opportunity to experience pleasure, gain confidence and raise their self esteem. Team work and healthy competition are also encouraged.

The staff at the school aim to promote the importance of a healthy lifestyle both physically and mentally. They believe that P.E gives the children a break from academic subjects, enabling them to release their physical energy.
Follow our sport page on Twitter for up to date events
https://twitter.com/CTKMcrSport
Congratulations to Millie Y6 Who won GOLD at the European Junior Taekwondo Championships in Milan on Saturday 10th February.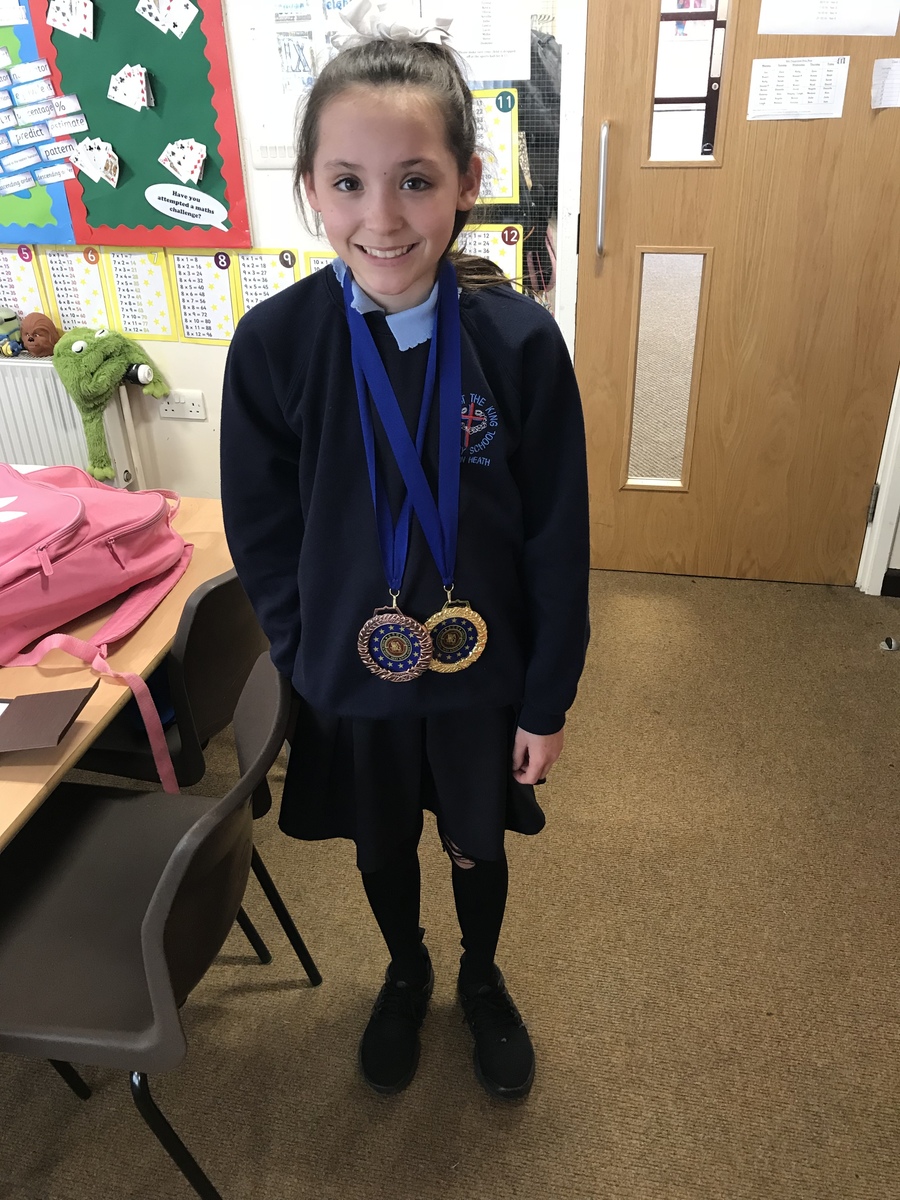 Disability Awareness Day
This year some of our Year 6 children had a fantastic opportunity to take part in a Disability Awareness Day with Sean from Manchester City Football Club. On the day the children took part in activities both in class and in the sports hall enjoying learning how people with disabilities have an equal opportunity to play sport. It was an eye opening experience for the children as they attempted some of the sports themselves including, blind football, blind goal ball and sit down volleyball. The pupils really appreciated how much hard work and dedication people with disabilities put in to reach their goals.
After School Clubs and Sporting Achievements
After a very successful 2016/17, Christ the King are looking forward to another year full of sport. On top of all of the events that we entered last year we will be looking to add new events as well as we look to expand on last years success.
On top of the extra curricular competitions we also have lots of opportunities for pupils to attend after school and before school clubs ranging from football to archery to dance and drama.
Basketball
Our Mixed basketball team took part in a 2 week league competition finishing in a very respectable 3 position. The children player extremely well putting in some fantastic performances. Well done to all that took part in the competition.
Squad includes: Millie, Divine, Anthonette, Cephas, Neville, Bradley.
Quicksticks Hockey
Well done to the mixed Quicksicks hockey team that managed to qualify for the Manchester finals later this year putting in some very competitive performances. Having only lost one game they have qualified in second place. Well done to all that have taken part.
Squad includes: Robby, Harley, Laura, Lilian, Onyii.
Dodgeball
Great fun was had by our Dodgeball team at Manchester Communications Academy in a fiercely fought contest. The children did extremely well coming up against some strong opponents finishing 3rd in the group stages before narrowly losing the play off to finish 6th out of the 12 schools that entered. Well done to all.
Squad includes: Blake, Harley, Trevor, Elijah, Ruby, Teigan, Alyssa, Lilly.
Girls Year 5/6 Football
This year our girls have entered into the Year 5/6 tournament at the Manchester Communications Academy again. They will be looking to go one better than last year after finishing 2nd in the league and qualifying for the Manchester finals where we finished 3rd. This year the team is looking strong again and will be pushing for the best team in Manchester position come May.
Squad includes: Millie, Lexie, Rose, Ruby, Tina, Olivia, Isabelle, Nia, Darcie, Onyii.
Results
V St James - W/O 3-0
V St Margaret Marys - Won 5-0
V Abbey Hey - Won 3-1
V Park View - Won 2-0
V Moston Lane - Won 3-0
V Abbott - Won 1-0
Girls Year 4/5 Football
Our girls have a great opportunity this year to represent Christ the King in a football tournament that is played at Manchester City Football Club. The team is well set up with some fantastic players looking to enjoy themselves playing football at a competitive level.
Squad includes: Lexie, Rose, Ruby, Omonze, Alexia, Darcie, Jessica, Heidi.
Results
V St Kentigern's - Won 2-0
V Ashbury Meadow - Won 5-0
V Beaver Road - Won 3-1
V St Johns - Won 3-0
V St Marys - Won 3-0
V Abbott - Won 3-1
V Beaver Road - Won 3-0
V Mount Carmel - Won 2-0
Boys Year 4/5 Football
Along with the Year 4/5 Girls football team the Boys have been entered into a competition at Manchester City. They will be looking to showcase their skills against other teams to try and make it to finals day at the end of the school year.
Squad includes: Leighton, Munashe, Harrison, Vaughan, Finlay, Coby, Filip, Zak.
Results
V Higher Openshaw - Won 3-1
V Mount Carmel - Lost 2-1
V Baguely Hall - Won 2-0
V St Patrick's - Won 1-0
V Heald Place - Won 2-0
V Mount Carmel - Won 1-0
V Plymouth Grove - Won 4-0
V Charlestown - Lost 4-3
Boys Year 5/6 Football
This year the Year 5/6 boys have been entered into the North East Manchester primary football league. The team will be playing 9 a side games against other schools as they look to try and finish as high up the table as they possibly can.
Squad includes: Farguson, Kyron, Blake, Bradley, Filip, Harrison, Vaughan, Munashe, Jack, Alvin, Neville, Lennon, Cephas, Leighton.
Results
V Park View - Lost 2-0
V St Mary's - Lost 1-0
V Moston Lane - Lost 5-1
V New Moston - Drew 3-3
V St Dunstans - Lost 9-0
League table
http://full-time.thefa.com/ProcessPublicSelect.do?psSelectedSeason=682973895&psSelectedDivision=453117481&psSelectedLeague=191009220
Cross Country
Congratulations to the Boys and Girls Cross Country teams who have both qualified for the Manchester finals after the North Manchester Heats. A special congratulations to Kyron who won the Boys team race and to Lexie and Millie who came first and second respectively. The teams are now looking forward to running in the Finals at Philips Park in November.
Gilrs Team: Lexie (1), Millie (2), Rose (8), Ola, Precious.
Boys Team: Kyron (1), Vaughan (10), Thomas, Robby, Filip.
Full Results
Congratulations to the Cross-Country team that ran on Thursday 2nd November who took home the gold in both the Girls and the Boys team. Well done to all runners taking part.
Well done also has to go out to the Cross-Country runners taking part in the Manchester finals on Tuesday 7th November. Both teams represented the school well finishing in a very respectable 5th position. speacial well done goes out to Lexie and Millie who finished 6th and 15th respectively meaning they have been chosen to represent Manchester in the County finals later on in the school year. Well done to all!!
Tag-Rugby
Entering a new event this year the Boys and Girls all enjoyed the Tag-Rugby event taking place at the Co-Op Academy. On the first evening they played 3 very competitive games against some experienced schools. The team are looking forward to testing their new skills again next week when they play 3 more games.
Team includes: Farguson, Tomasz, Deacon, Kaylem, Suzanna, Julia, Lily, Jack and Alvin.
School Games Day
This year we split School Games Day up so that Year 1 and 2 did it together, Year 3 and 4 did it together and Year 5 and 6 did it together. The competitions took place over 3 separate mornings and all of the children enjoyed taking part in the different activities. The challenges ranged from a sprint relay race through to a netball shot and a bean bag toss in Key stage 2 and Standing Long jump, Leap frog and even a hula hoop race in Key Stage 1. The challenges were there to test the children on things that they have bee working on in PE over the course of this academic year. The competition between the teams was to a very high standard with all teams scoring between 110 points and 170 points. It was a very close competition but congratulations to those children taking home the Bronze, Silver and Gold medals in their year group.
Year 1:
Gold - Ryan, Roni, Andre, Neave, Shola, Lavanah
Silver - Ashley, Lewis, Kayne, Alfie, Amy-Jane, Ruby
Bronze - Koby, Murphy, Jacob, Harry, Precious, Noruwa
Year 2:
Gold - Charlie, Jayden K, Olivia Baz, Gabija, Paulina, Melaher
Silver - Daniel, Eni, Connor, Maisie, Yvie, Flavia
Bronze - Zak, Jaden F, Olivia Bos, Kacey, Gracie, Ewa
Year 5:
Gold - Kyron, Tomasz, Daisie-Mae, Onyii, Nikiia, Daniel
Silver - Cameron, Farguson, Ruby, Divine, Tina, Janea
Bronze - Lennon, Bradley, Tyrese, Olivia, Ava, Lilian
Year 6:
Gold - Taylor, Disney, Lola, Stella, Ruby, Faith
Silver - Liberty, Jason, Maisy, Caitlin Sa, Tobi
Bronze - Ibrahim, Patryk, Annette, Ellen, Whitney
Lancashire County Cricket Club
This year Christ the King have built a stronger relationship with Lancashire County Cricket Club, because of this we have been offered tickets to some Lancashire games at a discount price. These tickets have gone on a first come first serve basis but if you require any more tickets for any cricket games throughout the summer whether it is Lancashire or England then copy and paste the link below into your browser.
https://www.eticketing.co.uk/lccc/Authentication/Login?groupref=56&digest=e7494b395b1805e26e756c9173f3ca3d151cc50cf672b5b92ee73976a49f8560
Sports Trips
Our school has been very fortunate this year to attend many educational days out to different sporting events throughout the year. Our Year 6's attended the National Squash Championships getting the chance to see some of the worlds best players take on each other. whilst there they also took part in some mini activities. Along with this Year 6 also got the opportunity to attend the National Fire Services final at FC United. On the day when they arrived they took part in mini football and dodgeball matches themselves before being invited into the stadium to watch East Scotland Fire Service take on London Fire Brigade.
In Year 5 we were fortunate enough to have Manchester City come in once a week over a 6 week period teaching the children Maths and Literacy through football. this was a great experience for the children and it was topped off with a trip down to the Etihad Stadium where they got a full tour of the stadium getting to witness some of the best facilities for sport in the world.
Year 4 got the opportunity to attend 2 sessions at Lancashire County Cricket Club. On the first session that we went to the children got the chance to watch Lancashire take on Yorkshire in the county championship. Whilst there the children met Kate Cross who plays for both Lancashire and England in the women's version of the game. they also had the opportunity to test there skills around the ground at different activities before heading back to school. The second trip to Lancashire the children had a mini tour of the stadium and media centre before taking part in different educational activities. In the afternoon the children played Kwik-Cricket in the indoor cricket centre before leaving with lots of goodies given to them from Lancashire.
In Year 3 the children attended a Go Run For Fun event at the Etihad Campus. This was a fantastic morning out for the children who got the opportunity to be one of 195,000 children to have taken part in one of these events in Manchester alone. On the day the children got the chance to meet Kelly Massey, a bronze medal winner from the Rio Olympics. Kelly was part of the 4 x 400m relay team and gave up her time to answer questions that the children had for her in regards to her training, experiences, diet, inspirations and achievements. The children were all given a pink t-shirt in which to run the event in as well as a race number and a pair of colourful shoe laces. All of the children completed the 2k run with some very impressive runners in the group. well done to all on such a successful trip.
MCFC
This year we have been fortunate enough to have a coach coming in from Manchester City every Tuesday to work on the fundamental motor skills with our EYFS children. This has been a fantastic course and the children have really enjoyed the sessions with Olly our coach. Each class in nursery and reception has had a 1 hour session each week doing different activities working on different skills to help develop their movement skills as well as teamwork and other key areas.
We are pleased to announce that this partnership with City is growing stronger and the course will continue in September for the 2017-18 school year.
On top of this we are pleased to also announce that Manchester City will also be coming in to work with our KS1 and KS2 children starting in September 2017 and running through until July 2019. This again is going to be a massive opportunity for the school to work with a major organisation in both an educational way as well as a physical way.
After School Clubs and Sporting Achievements
This year Christ the King has competed in over 50 events in a variety of different sports. So far we have had a very successful year qualifying for the Citywide finals in 4 different sports and narrowly missing out on finals in many more. I am very proud of the way that our teams have conducted themselves this year when representing our school. It shows in our results the high levels of effort that the children have put in. I am very much looking forward to the finals coming up and very excited at the prospect of future success looking at the talent that we have in school.
I would also like to thank all of the parents, carers and family members that have come to support the children at the different events and at times in difficult weather conditions over the course of the year. Your support is not only appreciated by the children but by myself and the other staff as well.
One final big thank you has to also go to Mr Barlow, Mr Russell and all of the other members of staff who have given up their time and effort after school to help out in the many different sports we have attended this year.
Mr McGuinness
Cross Country
Congratulations to the Year 5 and 6 Cross Country team. The team qualified into the City Wide Finals at Phillips Park after attending 3 rounds of qualifiers at different venues across North Manchester. The boys came second in the heats and qualified for the Manchester Finals where the team finished 5th overall. This was a fantastic achievement for the team so early on in the year.
The team included; Kyron (c), Alfred, Ibrahim, Lewis, Ashley, Disney and Zico
A special mention to Kyron who was asked to represent Manchester at Heaton Park after his fantastic efforts in the competition.
Swimming
This year the year 4/5 swimming team attended the swimming gala at North Manchester swimming baths in Blackley. Both the girls and the boys teams performed well but a big congratulations to the Girls team who won 5 out of the 6 races and came second in the other. With these results the girls team qualified for the Citywide Finals at the Aquatic Centre in Manchester. Once again the girls put in a great performance and finished in a very respectable 5th place in Manchester. Well done girls!
Girls team; Isabelle, Martyna, Lois, Julia
Boys team; Filip, Cailan, Kyron, Vaughan
Dodgeball
This year we entered into a Dodgeball tournament for the first time at MCA. the children had lots of fun on the day and out of the 12 teams that entered we came 4th. It was a great experience for the children who all represented the school extremely well.
Team included; Jamie, Taylor, Ann-Marie, Alvin, Joyce, Jack and Ava
Basketball
In the Basketball this year we attended 2 competitions at St. Matthews RCHS. in the first week Our team came top of the group putting them through to the top group in week 2. The standard in the top group was much higher and the team performed extremely well finishing in 3rd place.
Team included: Alfred, Lewis, John Paul, Isabel, Libby, Joyce, Tobi, Mary and Sophie.
Netball
Congratulations to our netball team this year who have qualified for the Citywide Finals in June. The team are going through to the finals unbeaten having won 7-0, 11-0 and 2-1. drawing the other game 0-0. This is a fantastic achievement for the team who have been training hard with Miss Courtney and Mrs Kelly. The hard work is clearly paying off. The team are going into the finals looking to come out on top once again.
Team included; Libby (c), Lulia, Alfred, Patryk, Joyce, Faith, Isabel and Lacey.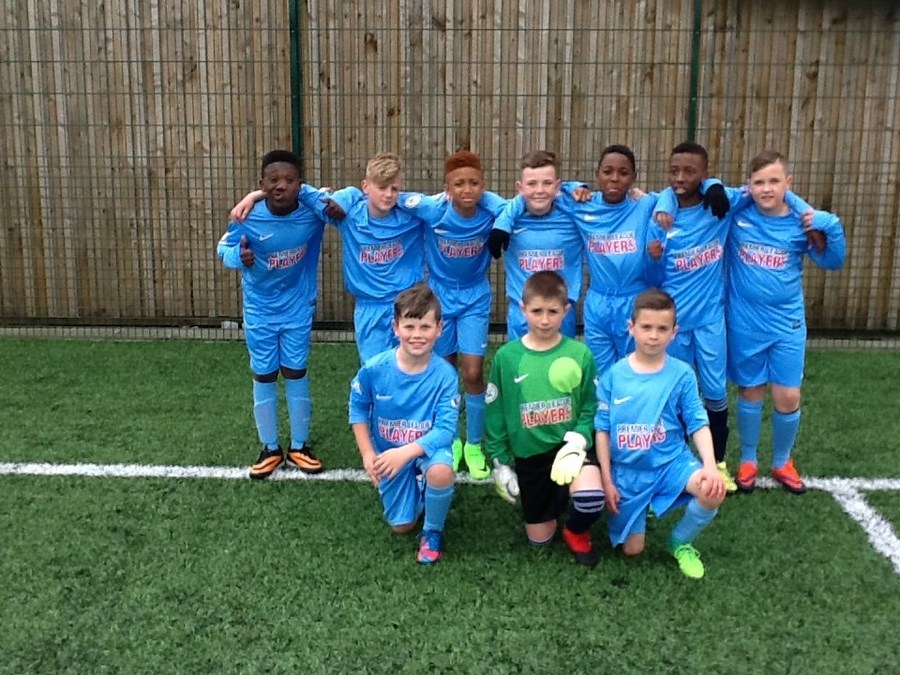 Y5/6
Football League
This year the boy's football league changed to a 9 a side league spread out over the school year. Considering the team had never played together before they played to a very high standard after losing their first fixture they went unbeaten for the rest of the league campaign winning 3 and drawing the other 3 games to finish in a very respectful 3rd place in the league.
The League table and results can be found at,
http://full-time.thefa.com/ProcessPublicSelect.do?psSelectedSeason=820980102&psSelectedDivision=70261468&psSelectedLeague=191009220
Congratulations to all of the children that took part in the team; Ibrahim (c) Lewis, Maisy, Disney, Taylor, Fortune, Alfred, Farguson, Blake, Kyron, Harrison, John Paul, Filip and Vaughan.
A big special congratulations also has to go to Ibrahim who was asked to attend 6 sessions at MCA with Everton before being 1 of 2 children out of over 100 to go and play for the Everton under 11's academy team.
Premier League competition
Outside of the league the team also entered into the Manchester City football competition where they qualified from the first competition to the last 16. The team once again performed to a high standard in the finals before unfortunately losing their last group game to the eventual winners of the competition. Congratulations to St. Cuthbert's who went on to represent Manchester City in the Premier League Under 11's competition at Stamford Bridge in London.
CTK CUP
Once the SAT's had been completed the team took part in the Christ the King Cup at FC United. This was again another test for the team taking on some of the best footballing schools in the area. Once again the team qualified out of the group stage before taking on New Moston in the Semi-Final losing a very tight game 2-0 late on. St Dunstan's and New Moston played out a very tense final where St. Dunstan's ran out the eventual winners.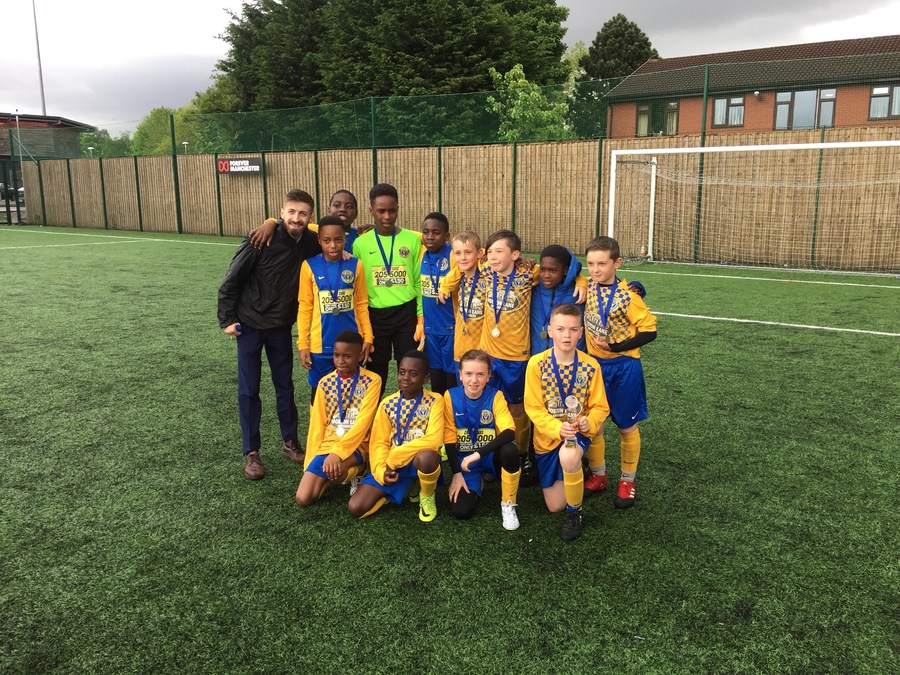 Y 3/4
Our Year 3/4 footballers entered the Moston Shield this year at FC United. the team played extremely well as not only was this the first time that they have represented the school for some of them but it was the first time some had ever played on a team. The team did extremely well qualifying out of the group stage before narrowly losing the semi-final 1-0 to the eventual winners Moston Lane. Well done team I am looking forward to watching you play together in the coming years!
Team included; Lexie (c), Zak, Munashe, Jack, Finton, Michael, Vaughan and Filip.
Y 2
The Year 2 boys entered into a football competition at The Cliff this year. The standard played at by our boys was exceptional with them winning all 8 games on the way to the final. The final was a tense affair when it came down to the last kick of the game where we unfortunately lost 1-0. The boys were a little disappointed but the future definitely looks bright for these young stars.
Team included; Zak (c), Ethan, Kane, Michael, Tyrese Jayden Mc and Jayden F.
Y5/6
Our Year 5/6 football team have had yet another successful year this year. Having attended 4 sets of fixtures at MCA this year the girls have once again qualified for the Citywide finals at Whalley Range High School in June.
The team are following on from a successful year last year where we qualified from the Citywide finals and came runners up in the County finals. We are looking to hopefully go one better this year!
Congratulations to the team so far that include; Maisy (c), Millie, Isabel, Isabelle, Ruby, Lexie, Rose, Nia.
A big congratulations also has to go to 2 of our girls, Maisy and Lexie, who have been asked to attend sessions at Manchester City with the hope of playing for the academy team.
Y 4/5
Our Year 4/5 Girls football team once again entered a football competition at Manchester City. This competition was spread out over 3 different sessions down at the Etihad Campus. The girls put in some excellent performances over the 3 sessions winning most of their games played.
Team included; Millie (c), Lexie, Tilly, Rose, Isabelle, Alexia, Nia, Lilian, Darcie and Ruby.
Futsal
For the first time this year we had the opportunity to enter into a year 4/5 girls Futsal team. This is a new competition for the girls this year and they were a credit to the school on the day. The girls played very well only missing out on qualifying for the finals by 1 goal on goal difference. It was a great experience for the girls trying out a different style of football for the first time.
Team included; Millie (c), Lexie, Rose, Jessica, Ruby, Tilly, Nia and Darcie
Cricket
Following an impressive first week at MCA where the children won all 3 of their games they were placed in the top group of 3 for the final weekend. This was a very tight group where all 3 teams played each other in a round robin event. after all games were played we were left in a situation where all teams had won 1 game and lost one so it went down to runs scored. This left us in second place with only the top team qualifying for the finals. Congratulations to the team as this was the first time that most of the children had played for a cricket team before.
Team included; Matilda (c), Lewis, Alex, Layton, Talia, Blake, Thomas and Ashley
Rounders
After the first week was washed out at the rounders competition this year we attended the second week at St Matthews RCHS. This is the first time for a few years that we have entered a rounders team but the children were determined to do their best. over the course of the evening the children played 4 games winning 1, drawing 2 and narrowly losing the last game by 1 rounder. The team finished in a very respectable 3rd place. Well done team!
Team included; Layton, Alfred, Jamie, Lewis, Zico, Courtney, Olivia, Talia, Ann Marie, Tobi and Annette.
Indoor Athletics
Our Year 4's were invited down to attend an indoor athletics competition at St Matthews this year. Whilst there they took part in different activities testing different skills. This was a fun experience for the children and they all said how much they enjoyed the experience.
Team included; Filip, Harrison, Emmanuel, Lexie, Rose, Kate and Darcie.
Dance
This year our Year 3 children attended a dance festival at Our Lady's High School. The children had worked extremely hard on their performance over the weeks leading up to the event with Miss Holmes. The children performed a flawless dance and enjoyed watching the other schools compete in the event as well. Congratulations to all that took part in the dance and thank you for your time and effort.