School Council


Every year, we hold a recruitment process, involving a vote, so that children gain an understanding of the rights and responsibilities we all have as British citizens. Our children are taught the value of democracy by sharing their viewpoints and listening to others, before they decide on the best candidates to represent the school.
The pupils who are chosen to join the School Council have a very important job, which is a great opportunity for children to develop their confidence, communication skills and their ability to problem-solve. The School Council meets on a weekly basis to prepare for events, assemblies, and discuss hot topics such as Anti-Bullying Week, Safeguarding, our school environment and events and local initiatives.
Children can share ideas they'd like to be discussed at School Council meetings by letting us know on the suggestions board in the School Hall.
Meet our School Councillors for the year!
We have sixteen councillors in total, two pupils elected from each class in Key Stage Two! Each class has one School Councillor and one Deputy School Councillor. This year's Councillors are:
Ava and Kyron; Archie and Brooklyn; Sean and Gabriella; Helena and Michael; Elizabeth and Jainaba; George and Chloe; Kaden and Remme-Mae and Harry and Amy-Jane.
See how much they've already achieved!
Our School Council Prayer
Anti-Bullying Week
The School Council led several events during Anti-Bullying Week, delivering their own assembly to emphasise the message of 'One Kind Word'." They reminded us to treat others how we wish to be treated and consider all the ways we can brighten people's day so that Christ the King is always a happy place to be. Our School Councillors also reminded children of our Anti-Bullying Charter, so everyone knows how to spot bullying when it happens and help to put a stop to it. The School Council also promoted and judged the annual Anti-Bullying Campaign Posters from across the school.
Anti-Bullying Week Poster Competition
Super Seven School Rules
The School Council worked very hard to come up with Seven School Rules to sum up the ethos of Christ the King. There's lots of things we all do to make sure we have a warm, friendly learning environment, so it was difficult to narrow down the list to just seven. But the School Council took different viewpoints into account and managed to determine those special rules which are absolutely vital in making Christ the King the wonderful school it is.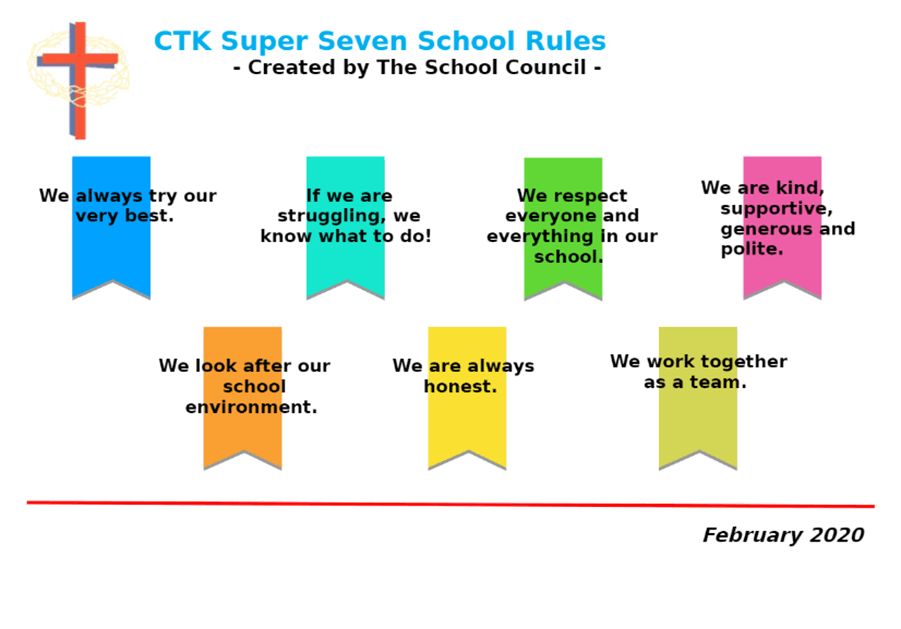 School Council Meetings
Our weekly meeting is:
Every Thursday at 12:45pm in the Key Stage Two Library.
We ask classes to let their Councillor know if there is anything they'd like us to discuss.
Look out for our suggestions board in the dinner hall and let us know what you would like us to discuss at our next meeting.
HOT TOPICS!
Reading for Pleasure
Anti-bullying
Safeguarding
Caring for our Local Environment
Culcheth Lane, Manchester, Lancashire M40 1LU
0161 681 2779
For telephone enquiries please ask for Mrs Potter.
contact@christtheking.manchester.sch.uk
At point of contact, enquires and queries will be dealt with by Mrs. Potter.
For a paper copy of any information on this website, please contact the school office.
SEN enquiries will be passed on to the school SENDCo Mrs Holroyd.