Year 1
Welcome to Year One!
Meet the Staff:
Y1H - Mrs Higgens
Y1L - Mrs Henry's and Mrs Fleming
We are also supported by Mrs Fahy and Mrs Southworth
Please click on the link for your child's class to look at the Parent Information leaflet.
Click on the links below to find out more about our curriculum in Year 1:
Religion - Baptism- Belonging
"Go therefore and make disciples of all nations, baptising them in the name of the Father and of Son and of the Holy Spirit."
Matthew 28:19
In this unit the pupils will learn that Baptism is an invitation from God to belong to the Church family. They will learn that sacraments are God's way of being present at special moments in our lives and the Church family welcomes the one who is to be baptised. They will also learn about some of the signs and symbols used at Baptism. During this half term, the children will also learn about Remembrance Day, the feast of All Saints and All Souls, as well as preparing for the birth of Jesus during the season of Advent. We will also celebrate the feast of Christ the King, a very special celebration for our Parish and school.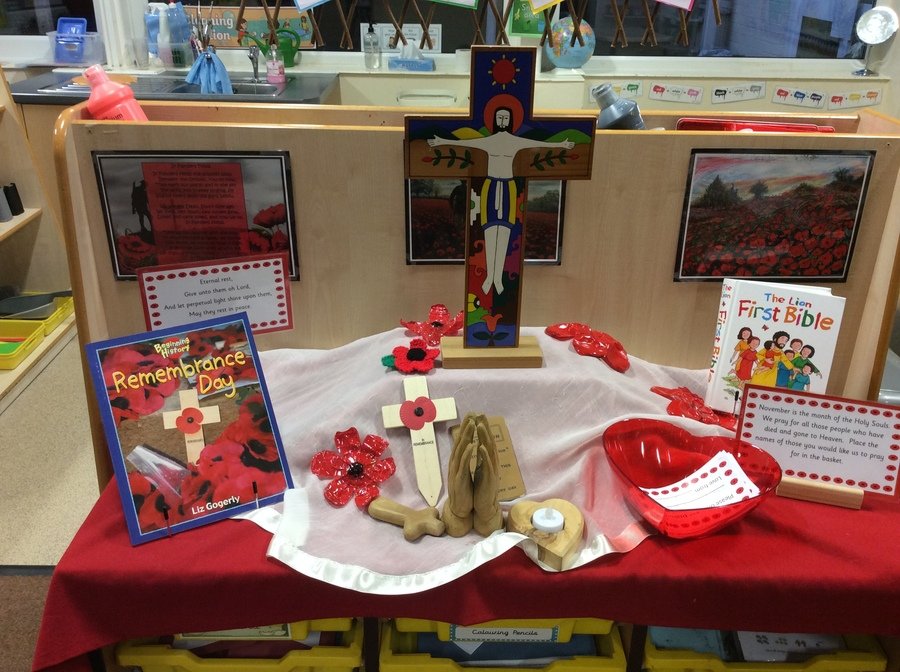 In Mathematics, the children will continue thier work on 'Addition and Subtraction'. They will learn to recognise that numbers can be made up of 'parts' and 'wholes' and they will use the mathematical symbols + - =

The children will also learn to recognise and name 2D and 3D shapes as well as using these shapes to sort and complete patterns

In Year 1 we will continue to work on the 'Mastering Number' programme to support the pupils in developing fluency. They will use a range of practical resources including numicon, rekenreks and tens frames .
In Year One, pupils will need to learn number bonds to make 10. They will need to recall them from memory. They will have lots of opportunities to practise using equipment like the Numicon shapes shown below.
In our English lessons this half term we will be readng a selection of Autumn Poems. The children will be using their senses to help them write poems of their own. We will also be reading 'Lost and Found' by our class author Oliver Jeffers.

The pupils will continue to attend daily Phonics lessons using the Read, Write, Inc programme to develop their phonic knowledge for reading and spelling.

We would recommend that children read their home reading book daily to an adult to practise the skills they are learning at school.

Reading with your child- Parent leaflet




Watch the video clip from Ruth Miskin, as she explains how we use the phonics programme Read, Write Inc to teach the children in Year 1 to blend and read simple words.
Here are the common exception words that pupils in Key Stage One learn to read and spell. Some of these are included on the weekly spelling tests.
Culcheth Lane, Manchester, Lancashire M40 1LU
0161 681 2779
For telephone enquiries please ask for Mrs Potter.
contact@christtheking.manchester.sch.uk
At point of contact, enquires and queries will be dealt with by Mrs. Potter.
For a paper copy of any information on this website, please contact the school office.
SEN enquiries will be passed on to the school SENDCo Mrs Holroyd.