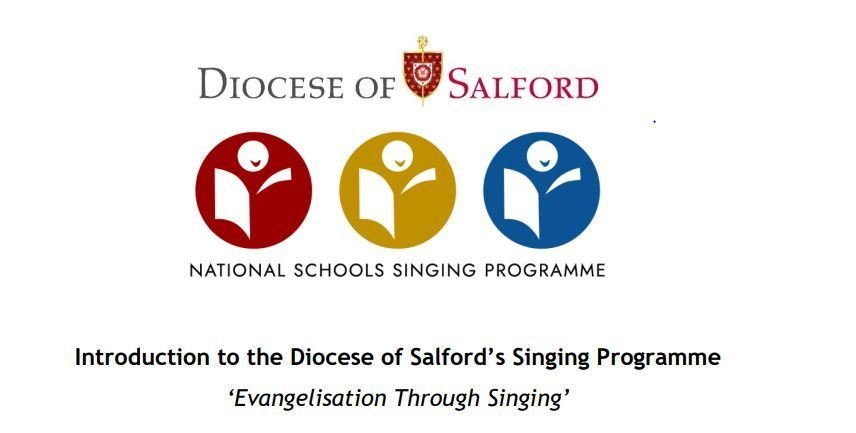 Diocese of Salford - National Schools Singing Programme
Year 3 are participating in the Diocese of Salford Schools Singing Programme. This will entail a series of weekly sessions led by Alex Patterson (Cathedral Director of Music). This project will allow opportunities for pupils to participate in additional performances within the Diocese, Parish, and local area.

Weekly sessions take place during the normal school day and are tailored to suit each class. They include music for school liturgies blended with interactive music education games and secular repertoire. Classes support the national curriculum and enhance education attainment and progression. Sacred content nurtures children's faith and flows into the worshipping life of the school and parish. Choral Directors will liaise with schools to ensure sessions provide music for schools' collective worship.

The programme aims to embed a sustainable culture of singing within your school. We recommend that a Choral Director works with each chosen year group for at least two consecutive years. Schools will also receive access to guidance, resources, and CPD on the use of singing for liturgies and the wider school environment.
More information about the project can be found on the document attached:
Salford SSP - Introduction (2).pdf
.
Culcheth Lane, Manchester, Lancashire M40 1LU
0161 681 2779
For telephone enquiries please ask for Mrs Potter.
contact@christtheking.manchester.sch.uk
At point of contact, enquires and queries will be dealt with by Mrs. Potter.
For a paper copy of any information on this website, please contact the school office.
SEN enquiries will be passed on to the school SENDCo Mrs Holroyd.