Our Art & Design curriculum is designed to challenge and inspire pupils so that they can develop their skills in creating, inventing and evaluating their own art pieces and structures. Our children participate in a wide range of activities including observational drawing, collage, textiles, and building sculptures. Whilst facilitating critical thinking and problem-solving skills, Art & Design also introduces children to concepts such as sustainability and art history.
*Embed media*
Take a look at our children's sketch books, which records all their amazing artwork. Children bring their personal sketchbooks with them as they travel up through school, so they can look back over their creative journeys and continuously develop their skills.
Many of our creative lessons have cross-curricular links. Here, you can see the children's masterpieces adorning walls around the school to document what they've learned.
Art & Design includes theory as well as creative expression. See our pupils delve into the history of different art periods and artists, such as Van Gogh and Rousseau.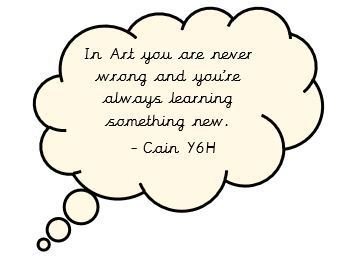 Art is a subject for all, there are a wide variety of mediums for the children to work in, with the intention of them finding a style or method that's suits them best. Artwork is celebrated by both staff and peers, with final pieces being used for display.
Children will look at examples of art work from a wide variety of cultures, faiths, races and genders. These works of art will serve as inspiration to the children when they create their own pieces.
Art and Design Curriculum Map 2021-22
Art and Design Curriculum Overview 2021-22
"I enjoy learning about lots
of different artists and
all their work!"
Yordanos – Year 6
Our children use sketch books to record all their amazing art work, this allows for their progression to be documented right through school. Children bring their own sketch books with them as they travel up through school so they can build and develop on their creative journeys.
Many of our creative lessons have cross curricular links and the children love to create beautiful crafts to decorate our walls around
Christ the King!
"I love learning about all the different techniques we can use in our Art work!"
Kaden – Year 6
As well as creating masterpieces in our practical Art and Design lessons, we also take part in theory lessons, delving into the history and works of different artists and sculptors like Van Gogh and Rousseau.
Culcheth Lane, Manchester, Lancashire M40 1LU
0161 681 2779
For telephone enquiries please ask for Mrs Potter.
contact@christtheking.manchester.sch.uk
At point of contact, enquires and queries will be dealt with by Mrs. Potter.
For a paper copy of any information on this website, please contact the school office.
SEN enquiries will be passed on to the school SENDCo Mrs Holroyd.